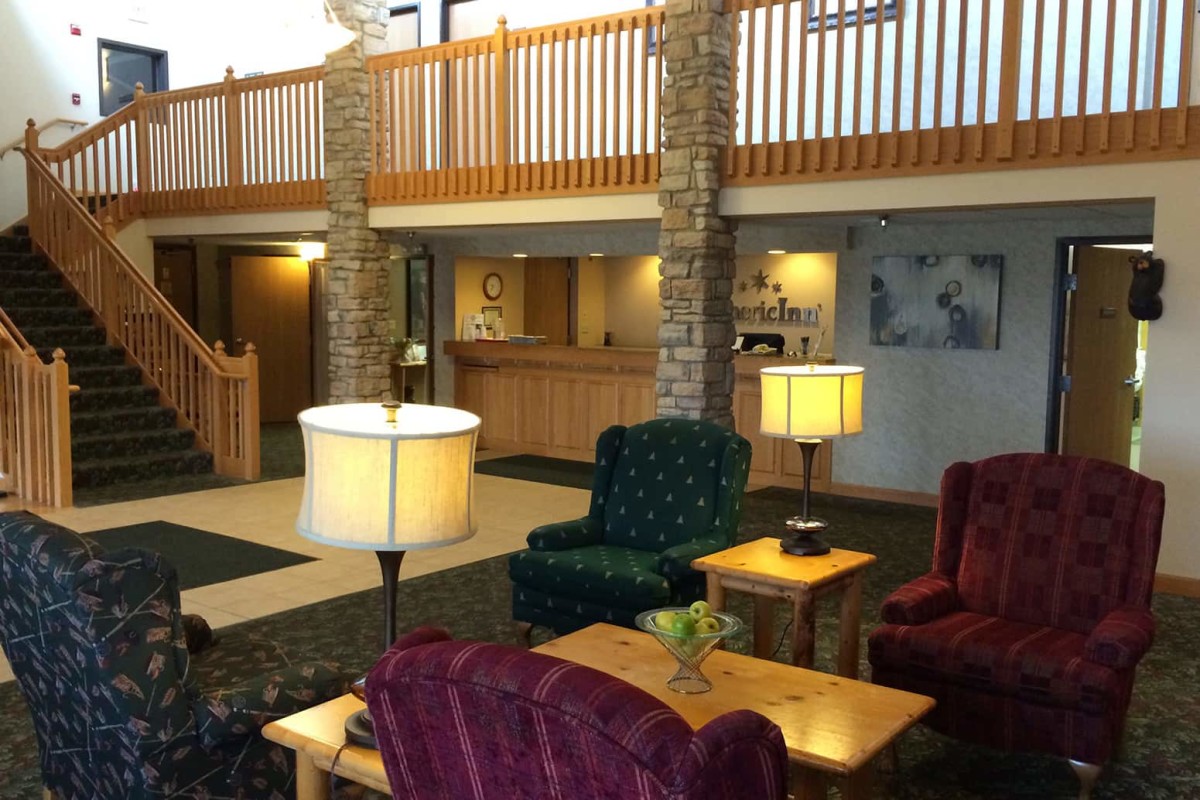 Take Exit 69 from Interstate 35, go East into town 6 miles. Take a right at the first stoplight, which is Hwy 3. South on Hwy 3 for 1 mile. Hotel is on the right hand side.
Get Directions
About
There's nothing like a warm smile at the end of a busy day. But AmericInn offers something you'll really warm up to -- a quiet room where you can relax and recharge. Quiet because every room is built with AmericInn Soundguard construction, scientifically proven to give you a more peaceful night. Add this to other amenities like free high-speed-internet access, an inviting lobby, and our complimentary AmericInn Perk hot breakfast. You'll discover we're quietly winning you over.
Rates
Daily indoor maximum: $199.00

Daily indoor minimum: $89.00
Rates are higher on Friday and Saturday for all rooms.
More Information
Seasonality
Open in fall

Open in winter
On-Site Facilities & Services
High-speed Internet available

Laundry facilities

Whirlpool (centrally located)

WiFi
On-Site Recreation
Indoor Lodging Amenities
Accessible to disabled

Air conditioned units available

Complimentary continental breakfast

Whirlpool in room(s)
Lodging Capacity
Number of hotel/motel rooms:

41

Total indoor lodging units available in winter:

41

Total number of indoor lodging units:

41
Length of Stay
Reviews

TripAdvisor Traveler Rating
Based on 210 reviews
Although a bit difficult to find because it was raining and getting dark, once we arrived, we were very happy. Staff was quite friendly and helpful with our minor TV problems. Breakfast was good. We...
— 196LindaC, October 17, 2022
quiet and relaxing. a little tricky getting into the property itself, but the best you can do with traffic patterns in the area. A large vehicle may have difficulty making the turn. I would stay...
— caho2734, October 8, 2022
Very clean and well maintained hotel. It was easy to check in and the rates were lower than similar competition. The breakfast was varied and quite good. I will most likely stay again it in the...
— marv700, July 22, 2022
The bed was comfortable and the hot tub was very relaxing, so I was overall satisfied. The bathroom left a little to be desired, with no fan to dry out my towels, cheap toilet paper, and no hand soap.
— ssleon64, July 18, 2022
It was a very well run and clean hotel. Highly recommend. The hot breakfast is better than most other places I've stayed and the staff was very friendly and the hotel was very clean. It was a...
— pparadiso2, July 8, 2022
Return to previous page