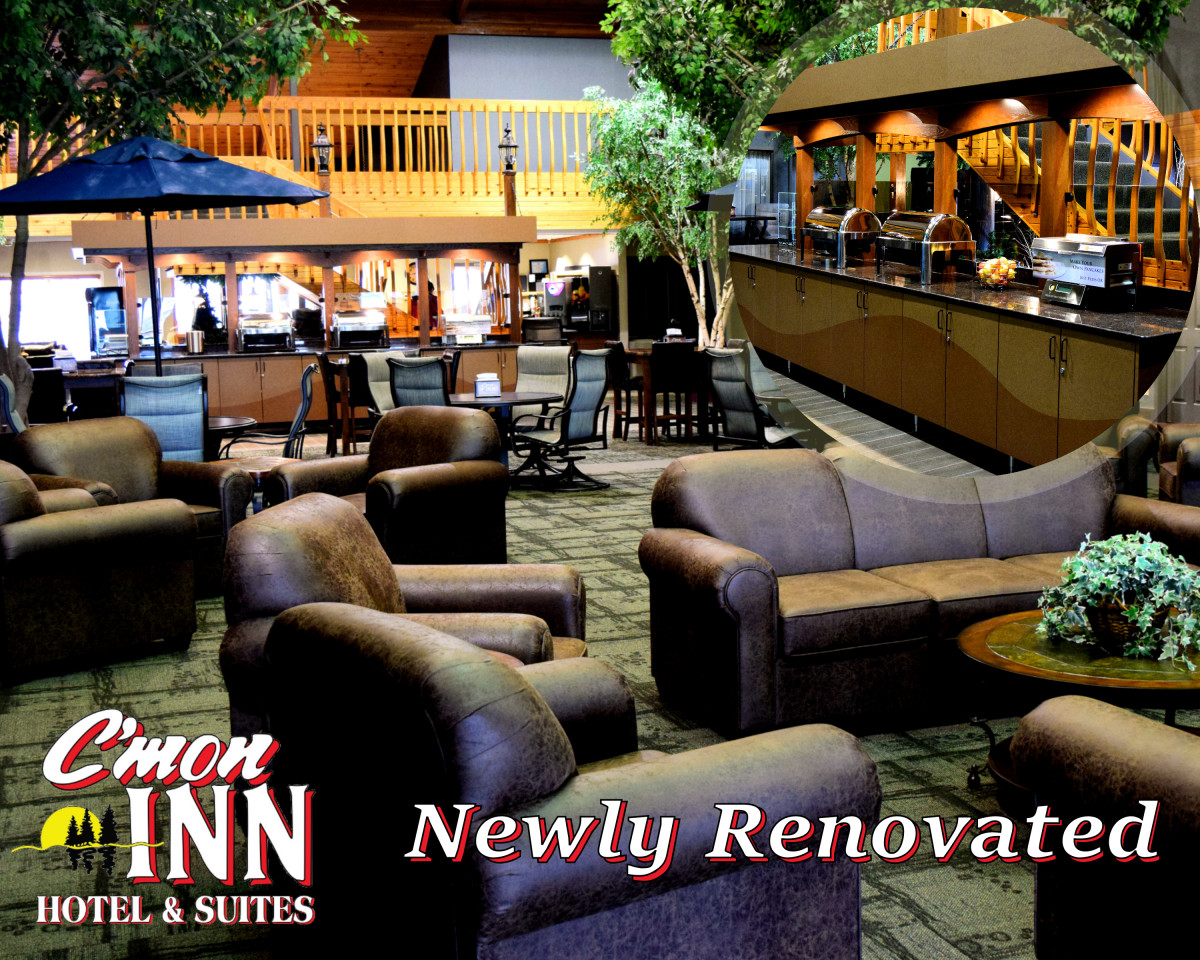 About
Here at C'mon Inn Hotel, our unique open courtyard provides guests with a sense of tranquility while allowing them to enjoy the many exceptional amenities available in our hotel including business meeting facilities, a large pool and hot tub and a complimentary hot breakfast. Each room includes a 42" TV, plush pillow-top beds, high-speed internet access, coffee maker, refrigerator, microwave, hairdryer. Come stay with us and "Escape the Ordinary."
Rates
Daily indoor maximum: $195.99

Daily indoor minimum: $90.00
Rates based on room type, day of the week and seasonal changes.
More Information
Seasonality
Open in fall

Open in winter
On-Site Facilities & Services
High-speed Internet available

Whirlpool (centrally located)
On-Site Recreation
Indoor Lodging Amenities
Accessible to disabled

Bridal suite(s)

Complimentary continental breakfast

Whirlpool in room(s)
Group Accommodations
Accommodations for tour groups of 40 or more

Unit(s) that accommodate groups of 10+ people
Lodging Capacity
Number of hotel/motel rooms:

44

Total indoor lodging units available in winter:

44

Total number of indoor lodging units:

44
Length of Stay
Meetings & Conferences
Facility accommodates meetings for 30 or more

Largest meeting room (sq ft):

792

Meeting/convention facilities maximum capacity:

45

Number of meeting rooms:

1
Reviews

TripAdvisor Traveler Rating
Based on 109 reviews
I stayed here overnight for business. The front desk staff was very helpful and recommended a great dinner restaurant here in Park Rapids (The Good Life). The rooms are spotless, quiet, comfortable...
— jenniferlD5990LR, February 28, 2020
The inn advertises that they have a fitness center, but they don't. Guests have access to a gym down the street. When its 10F outside, there is no way I'm going back out in the weather to workout...
— Jennifer T, February 14, 2020
our first room had a broken thermostat so it stayed 55 degrees in our room and the lights didnt work. our second room had a broken TV. the pool was nice and so was the breakfast. i would recommend it...
— gracescholtz, February 13, 2020
Loved this place! Easy check-in, well informed and pleasant guy at front desk. Excellent recommendations for restaurants in town. Room VERY clean and bed comfortable. Good breakfast. Well...
— am46B6036VE, October 9, 2019
Clean rooms, friendly staff, fair price. Have been staying here for years. Breakfast is average, pool is average, but staff is great! All the amenities you need and I'd something is missing let the...
— Cami T, September 3, 2019
Return to previous page