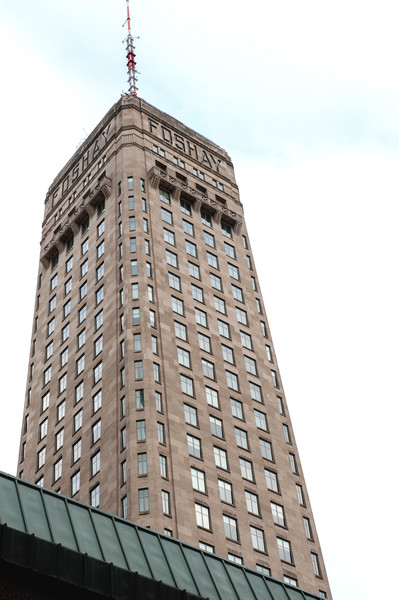 About
The Foshay Tower is one of the most recognizable landmarks in the Twin Cities. Utilities magnate Wilbur Foshay built this endearing homage to the Washington Monument in 1929. At 447 feet housing 32 stories, the Foshay Tower was the tallest building in the Midwest for 48 years. Visit the museum to uncover the remarkable story behind this unique skyscraper and its eccentric creator. And view the city from the outdoor Observation Deck on the 31st floor.
Hours & Dates
Year-Round
Monday:

11:00am - 5:00pm

Thursday:

11:00am - 5:00pm

Friday:

11:00am - 5:00pm

Saturday:

11:00am - 5:00pm

Sunday:

11:00am - 5:00pm
Open: Thurs-Mon 11am-5pm. Observation Deck Winter hours are subject to the weather. Please call ahead.
Rates
Ticket Prices: $10 per adult, $6 Kids 4-14. Children 3 and under are free. Please call for group rates.
More Information
Green Practices
The Observation Deck can only be reached by climbing two flights of stairs. We have an interactive webcam for viewing the city from the museum level.
Attraction Attributes
Can accommodate groups of 45 or more
Reviews

TripAdvisor Traveler Rating
Based on 276 reviews
I grew up in Minneapolis and I was always fascinated with a building that looked like the Washington Monument. It was constructed in 1906 and it was the tallest building between Chicago and the West...
— Terrence T, January 6, 2020
Neat to see skyline of Minneapolis. Also a lot of memorabilia that was interesting. The W Hotel is neat to walk through.
— RealReview67, December 9, 2019
Had a nice stay but wasn't impressed with the SPEED of the service - but will say the people are all fantastic and nice... and apologetic for being slow, so kinda hope they just speed up.
— dp1979eh, December 8, 2019
What a fun experience to go to the observation deck and look out at the city of Minneapolis. The open air deck gives a great view of the surrounding city. It has been a long, long time since I was...
— wayne102018, October 25, 2019
Foshay Tower was once the tallest building west of the Mississippi now home to the W hotel and a fun bar prohibition. Over all a unique experience stepping back in time.
— fistfullofgold, August 11, 2019
Return to previous page