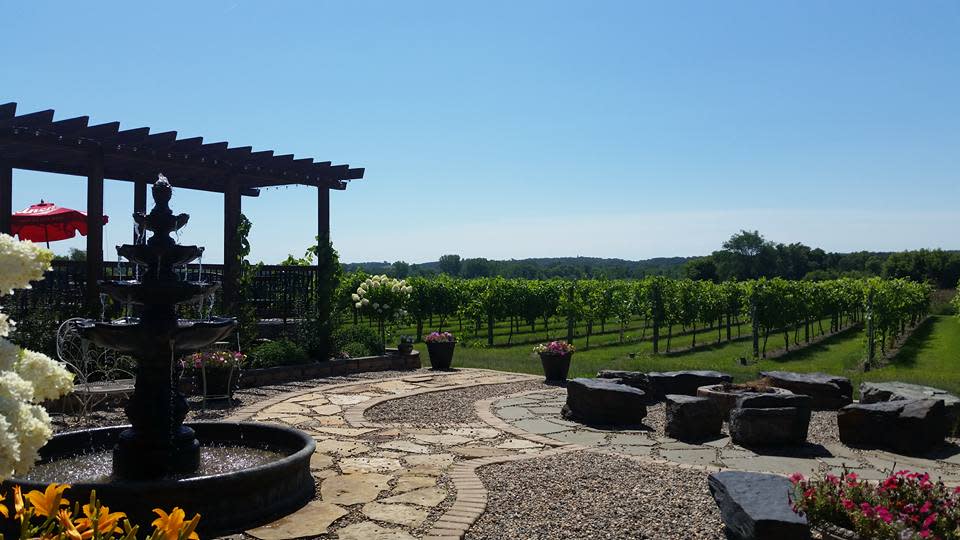 About
The adventure of visiting Grandview Valley Winery starts even before arrival. The scenery in the Minnesota River Valley boasts breathtaking views that can hardly be rivaled during any season and is more than worth the drive.
Our winery site is nestled into our 7.5 acre vineyard. While visiting, expect exceptional service and owners who truly appreciate your business, who work hard to ensure you enjoy your visit, and who sincerely hope you will return time and time again.
This begins and ends with the passion put into producing quality wine from the vine to the bottle. We also ensure the freshest quality pizza ingredients and the best in unique and local craft beer. And don't forget the ambiance!
We do not have the means to run a credit or debit card however we do accept check or cash and have an ATM on site. No reservations.
Hours & Dates
Year-Round
Thursday:

3:00pm - 9:00pm

Friday:

11:00am - 11:00pm

Saturday:

11:00am - 11:00pm

Sunday:

12:00pm - 6:00pm
Thursday: 3pm-9pm, Friday: 11am-11pm, Saturday: 11am-11pm, Sunday: 12pm-6pm.
More Information
Meals Served
Reviews

TripAdvisor Traveler Rating
Based on 26 reviews
Hostess was nice Wine was good. Too many bugs biting on patio, so requested inside seating. Arrived Saturday at 5:18pm. Ordered Pizza by 5:30. Still no pizza at 6:40. Asked staff when our pizza...
— 353shannanl, October 22, 2022
I visted Grandview Valley Winery while spouse was working the weekend at a nearby town, so i thought I'd seek out the winery solo. I went mid afternoon and was delighted to see many vehicles in the...
— Deb C, September 7, 2020
Great pizza. MANY differant types. I have been there several times and each time chose a differant pizza to try. Every one was GREAT. You can do a half and half selection, for I think, $1.50...
— Sharyn G, July 2, 2020
I have a group of friends that likes to relax, sip some drinks, eat some supper and take our time catching up. Grandview Valley Winery is a great place to do that! In the past, we always took an...
— FoodieIntheSticks, January 8, 2020
This secluded venue was a great find! We have not often had good luck with local wines, but their red blend called "Squirrelly" was terrific! Numerous other patrons eating on the deck with us also...
— Treeexpert3, August 26, 2019
Return to previous page