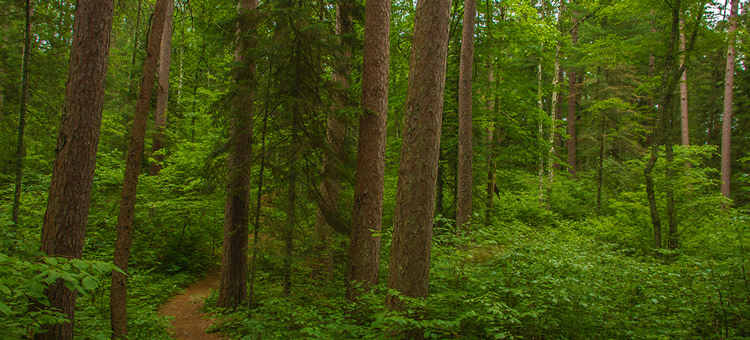 From Alvwood, Minnesota travel N on State Hwy 46 for 1/2 mile to CR 29. Follow 29 E for about 11 miles to Dora Lake and CR 26. Travel 2 miles N on 26 to Forest Rd 2240 (Lost 40 Rd). Parking is about 1 1/2 miles W of this intersection.
Get Directions
About
Lost 40 owes its old-growth pine forest to a surveying error that occurred during the Public Land Survey in 1882. As the story goes, the pines were missed by loggers because surveyors mistakenly mapped the area as Coddington Lake (the lake is actually located half of a mile to the southeast). The site was re-surveyed and the error corrected in 1960. Shortly after, it was incorporated into Big Fork State Forest and its old trees have since endured.
A 2009 study found the oldest individual trees within the SNA to be red pines 230-240 years old. The stand on adjoining land within Chippewa National Forest reportedly originated as early as 1745, and includes the "champion red pine" of Minnesota's Native Big Tree Registry, measured at 115" in circumference and 120' high
An interpretive trail passes through the site. This site is in an Audubon Important Bird Area and Watchable Wildlife Viewing Area. This site is within the Chippewa National Forest.
Hours & Dates
Lost 40 SNA trail is open year-round.
Rates
There are no fees or permits to visit the Lost Forty.
Reviews

TripAdvisor Traveler Rating
Based on 16 reviews
Favorite campground We usually stay in the Chippewa loop when we come here but have also stayed in the Wanaki loop. Chippewa has electric Wanaki doesn`t. This is a very nice campground, we stayed at...
— greg m, May 28, 2018
Following the recommendations above, we went to the Lost Forty. It was truly a marvelous site, but about an hour from Cass Lake for a 1/4 mile loop hike. I consider it an opportunity of a lifetime...
— lmgrffth, July 19, 2017
Long drive to get there but it was worth it. Make sure you check location before you go .. I didn't and it was a lot further than cars navigation said. Very few people there on a fall Friday...
— TootleLou2, September 30, 2016
Trees were donated in my name for this national forest last year. My hope was to find them. Surprise surprise......I actually did. The National Forest Service at this park was so very helpful in...
— Linda72451, August 25, 2016
We made the long detour to visit this site of very tall and very old, never cut pine trees. Knowing that this site was as pristine as you could get we felt it was a good idea to visit the place and...
— Sarracenia, July 5, 2016
Return to previous page