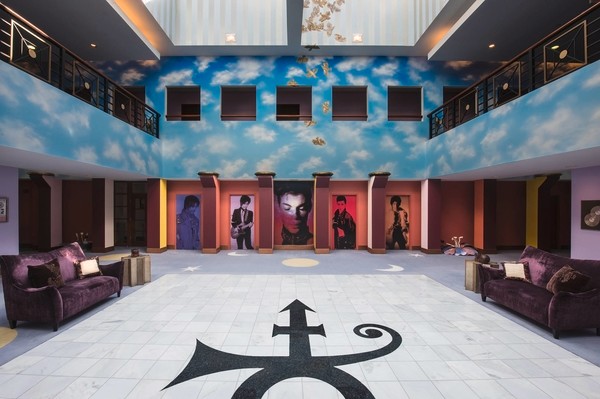 Paisley Park is located at 7810 Audubon Road in Chanhassen, Minnesota, approximately 20 minutes from Minneapolis-St Paul International Airport.
Get Directions
About
Paisley Park, Prince's private estate and production complex in Chanhassen, Minnesota offers fans of the late music icon the unprecedented opportunity to tour the legendary 65,000-square-foot complex that served as the center of Prince's creative universe. Tours take visitors throughout the extensive main floor of Paisley Park, including studios where Prince recorded, produced and mixed most of his biggest hits, exhibit spaces that chronicle films such as Purple Rain and Graffiti Bridge, Prince's private NPG Music Club, and a massive soundstage and concert hall where Prince rehearsed for concert tours and held exclusive private events and concerts. Visitors can see artifacts from Prince's personal archives, including iconic concert wardrobe & memorabilia, awards, musical instruments, artwork, rare music and video recordings and motorcycles. Prince sold over 100 million records worldwide, making him one fo the best-selling artists of all time. He won seven GRAMMY Awards, a Golden Globe Award, and an Academy Award for the film Purple Rain, all of which are displayed at Paisley Park. He was inducted into the Rock and Roll Hall of Fame in 2004, the first year of his eligibility. Prince was born in Minneapolis and resided in the Minneapolis area throughout his life.
Tickets must be purchased online prior to arrival. Walk-up/drive-up tickets purchases are not available. Unless otherwise notified, all parking is on-site at Paisley Park. You will be admitted through the gates 20 minutes prior to the start of your tour. Parking is free.
Hours & Dates
Year-Round
Monday:

10:00am - 7:00pm

Thursday:

10:00am - 7:00pm

Friday:

10:00am - 7:00pm

Saturday:

9:00am - 7:00pm

Sunday:

10:00am - 5:00pm
Tours are available Monday/Thursday/Friday from 10:00 AM - 7:00 PM, Saturday 9:00 AM - 7:00 PM & Sunday 10:00 AM - 5:00 PM. Visit website for availability.
Rates
4 Types of Tours: General Admission, VIP, Paisley Park After Dark (select Saturday evenings), & Ultimate Experience. Thursday VIP Tours include a special recording opportunity. Sunday VIP Tours include a Brunch Experience. Visit website for details.
More Information
Attraction Attributes
Can accommodate groups of 45 or more
Meetings & Conferences
Banquet facilities maximum capacity:

1750

Catering available

Meeting/convention facilities maximum capacity:

1750

On-site catering required
Mentioned In
Return to previous page