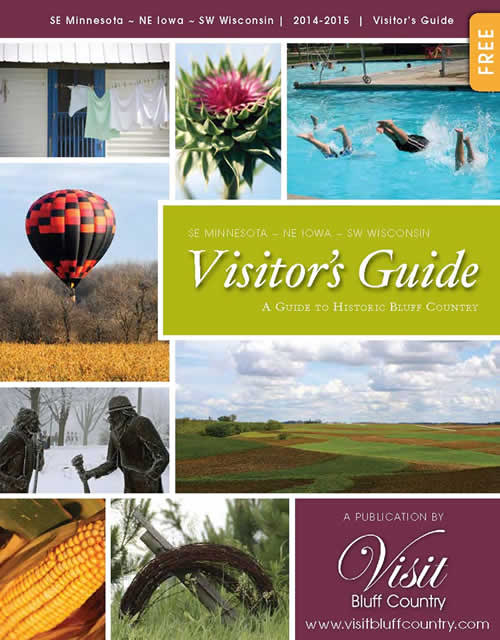 About
Drive along the Historic Bluff Country Scenic Byway (Trunk Highway 16) beside the Root River through Houston and Fillmore counties and you will see why many call this one of the most beautiful areas in Minnesota and Iowa. Scenic river towns that once powered the mills that ran the agricultural commerce of the new territories, and housed the railroad depots, beckon the traveler to enjoy quaint country charm and breathtaking vistas.
The trains have disappeared but an old rail bed has been developed into a hiking and biking trail system, the Root River State Trail and Harmony-Preston Valley Trail (MN), which provide over sixty miles of biking, hiking and in-line skating, as well as groomed cross-country ski trails in the winter. New trails are being developed, such as the Shooting Star Trail (MN), the Wapsi Great Western Line Trail (IA), and the in-town Decorah Bike Trail (IA).
Bluff Country is unique in its combination of hardwood forests, trout streams, agriculture, apple orchards, numerous springs and underground caves, as well as flocks of wild turkeys, bald eagles, and herds of whitetail deer. Known as the Driftless Area because it was missed by the last ice age's powerful glaciers, the topography has been sculpted by the erosive effect of water eating away at limestone. This "karst" landscape is characterized by towering bluffs, sinkholes and swift rocky streams. The top hunting, along with excellent trout, bass, catfish and pan fish fishing, is right here.
For the casual traveler who is looking for quiet time to reflect in nature's beautiful surroundings, Bluff Country offers a special place far from the maddening crowds, with a wide selection of Bed & Breakfasts, motels, or campgrounds to choose from. Stroll through the many boutiques and specialty shops, take a night out for professional theatre, or explore the many back roads that run through farming country. You may even run across a few Amish farms on your adventure. Golfers will find a dozen courses that offer not only a challenge, but beautiful scenery as well.
Almost any time of year features seasonal celebrations, but the citizens of Bluff Country welcome visitors year round. Shoppers will delight in the variety of antique and gift shops, as well as an array of eateries. And for the recreational enthusiast, Bluff Country has it all. From kayaking or fly fishing the swift streams, to turkey and deer hunting the hardwood forests, to biking and roller blading the trails through the countryside, Bluff Country, SE MN & NE IA, is an ideal place for a getaway.
Mentioned In
Return to previous page