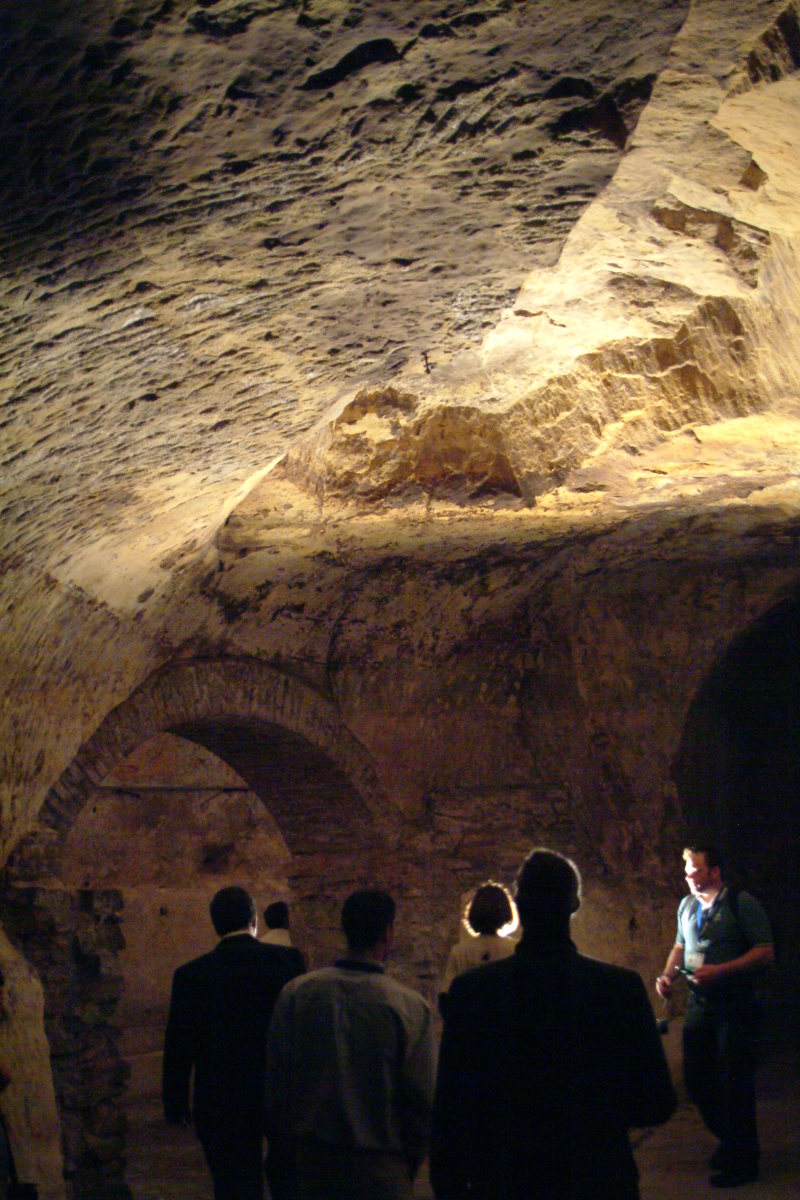 Located in Downtown Saint Paul, just 2 1/2 blocks south of the Wabasha Street Bridge.
Get Directions
About
Come hear and see the history of these sandstone caves. You will explore the original mined caves and see the finished caves (once a romantic night club called The Castle Royal). Hear the legends of the gangster massacre and ghostly lore in the most unique setting from Chicago to San Francisco. 45-minute walking tour - reservations not required.
A Lost Souls Tour is done the last Sunday of each month at 12:30 pm. Yes, we have ghosts!
Check our calendar for music events.
Hours & Dates
Cave Tour Times: TH 5pm, SA & SU 11 am.
Lost Souls Tours the last Sunday of each month at 12:30 pm
Rates
$8 per person for Cave Tours
$10 per person for Lost Souls Tours
More Information
Green Practices
Actual caves that are heated and cooled by the earth.

Eco-friendly landscape/facility design

Energy efficiency/conservation
Attraction Attributes
Accessible to disabled

Can accommodate groups of 45 or more
Meetings & Conferences
Banquet facilities maximum capacity:

200

Catering available

Commercial air service nearby

Facility accommodates meetings for 30 or more
Reviews

TripAdvisor Traveler Rating
Based on 176 reviews
We took a tour of the Wabasha Caves. This is a man made cave and started out as a sandstone mine, then used for refrigeration, then a mushroom farm, then a speakeasy and farm, a nightclub, then a...
— mongobud, March 12, 2020
The tours of the caves are amazing and give so much historical knowledge! Also this is a wonderful venue for a celebration. We attended a wedding at the caves and it was magical. The service, the...
— cj_alderman, February 23, 2020
good narrator/host. lots of interesting information about something most people don't even realize exists. Great flavor of "Old St. Paul". I wish it were a bit longer but still very much worth the...
— hborrm2264, February 4, 2020
The history of the use of the caves for storage , mushroom farming , speakeasy , gangster activity was fascinating. The bus tour of the history of gangsters in St Paul was fun and informative...
— NorthStar720371, December 22, 2019
The historic cave tour was great! Our guide was very knowledgeable and engaging, providing a great overview of the history of the caves and some local history of St. Paul during the Prohibition era...
— karenb807, November 25, 2019
Return to previous page