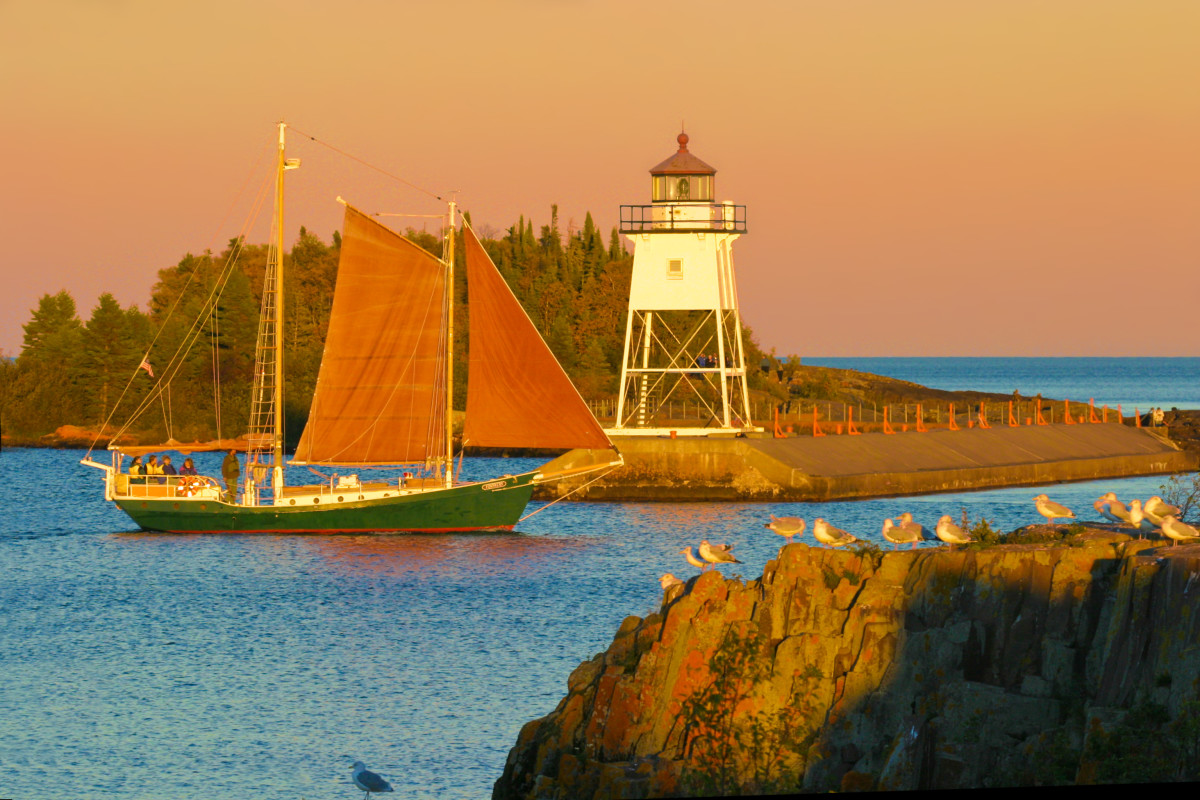 About
Visitor Information Center provides travel, vacation, lodging, dining, activity and event information for Grand Marais, Minnesota, and the North Shore of Lake Superior. Travel 110 miles from Duluth on the North Shore Scenic Drive (Hwy. 61) and enjoy Minnesota's favorite scenic byway. Splashing waves, the forested Sawtooth Mountains, waterfalls and rocky cliffs all along the way invite frequent stops and exploration. Around that last curve, Grand Marais is revealed.
Only in Grand Marais, every nook and cranny has personality – authenticity. An amazing arts culture, unmatched natural beauty, colorful restaurants, a wide range of lodging, unique shops and galleries are all harbor-side on Lake Superior. It's an easy stroll to find and enjoy it all – besides, that's how you catch the details. Outdoor paintings on charming signs and door panels, children's mosaics, whimsical yard art all contribute to the sense of creativity that is everywhere.
Millions of acres of wilderness beckon the outdoor enthusiast every season, and each has its own unforgettable beauty. Some see water, ice, snow, and brilliant foliage. You see hiking, kayaking, biking, XC skiing, snowmobiling, dog sledding and more on hundreds of miles of trails. This is the gateway to the BWCAW, one of America's outdoor treasures.
Enjoy festivals and events with friends and family all year. Focus on a hands-on experience in art and northern crafts, or visit shops and galleries that combine originality with world-class craftsmanship. Enjoy a cappuccino; fresh fish, or dig into basted ribs, hand-cut fries, a burger topped twenty ways. End a day in the crisp fall air perfectly with a special dinner of seasonal dishes and wine. It's your visit, and it can be whatever you want.
Hours & Dates
Summer Seasonal Hours (January 1 - December 31)
Monday:

10:00am - 4:00pm

Tuesday:

10:00am - 4:00pm

Wednesday:

10:00am - 4:00pm

Thursday:

10:00am - 4:00pm

Friday:

10:00am - 4:00pm

Saturday:

10:00am - 4:00pm

Sunday:

10:00am - 2:00pm
Winter Seasonal Hours (January 1 - December 31)
Monday:

9:00am - 5:00pm

Tuesday:

9:00am - 5:00pm

Wednesday:

9:00am - 5:00pm

Thursday:

9:00am - 5:00pm

Friday:

9:00am - 5:00pm

Saturday:

9:00am - 6:00pm

Sunday:

10:00am - 2:00pm
Visitor Information Center- Winter Hours: Mon.-Sat 10-4, Sunday 10-2. Summer Hours: Mon.-Thurs. 9-5; Fri-Sat. 9-6, Sunday 10-2
Mentioned In
Return to previous page