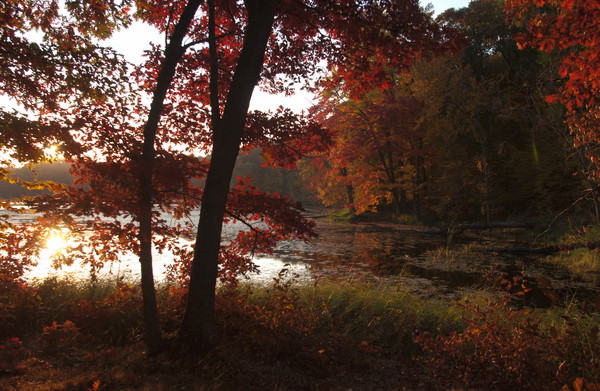 The park may be reached from the south via I-94(exit 193)at Highway 25, Chelsea Rd. and Wright County Road 111, or from the north via I-94 (exit 183)to Hwy 8, County Rd. 39 and County Rd. 111.
Get Directions
About
Visitors who come to Lake Maria State Park will enjoy one of the few remaining stands of the "Big Woods," a maple, oak and basswood forest that once covered part of southern Minnesota.
The park is perfect for hikers, backpackers, horseback riders, and cross-country skiers who enjoy the challenge of the rolling terrain. Take a stroll on the boardwalk which winds through a marsh.
Backpack sites, located on remote lakes and ponds throughout the park, are one to two miles from the trailhead parking. New log camper cabins, located near lakes and ponds, provide bunk beds for six people and a table and benches for campers who want more of the creature comforts.
Lake Maria State Park is home to the Blandings turtle, easily identified by bright yellow spots on its shell. It is one of Minnesota's threatened species.
Fall is a favorite time for hikers and horseback riders in this beautiful park of maple-basswood forests. The large trail center features wildflower paintings by a local artist. 13 miles of hiking, 6 miles of horse trails, boat and canoe rental; 16 miles of cross-country ski, also ice skating rink and a winter sliding hill.
Dates
Park permits: $35 annual, $26 second vehicle, $12 handicapped, or $7 daily. Camping fees are separate.

Book an online reservation 24 hours a day.

Phone reservations can be made by calling 866-857-2757 (TTY: 952-936-4008) Apr–Sep, 8 a.m. to 8 p.m. D
More Information
Seasonality
Open in fall

Open in winter

Open in summer
On-Site Facilities & Services
Children's programs (scheduled, supervised)

Located on a lake or river
On-Site Recreation
Canoes or kayaks available

Cross-country ski trail (groomed)

Lake/river access (boat ramp)

Snowshoes available
Green Practices
Solar powered lighting & water pumping facilities, passive solar heating at Visitor Center.

Eco-friendly landscape/facility design

Eco-friendly purchasing practices

Energy efficiency/conservation

Waste reduction/reuse/recycling
Attraction Attributes
Can accommodate groups of 45 or more
Number/Type of Campsites
Number of camping cabins:

3

Number of camping cabins available in winter:

3

Number of tent-only sites:

17

Number of tent-only sites available in winter:

17

Total number of campsites:

17

Total number of campsites available in winter:

17
Campground Features
Group camp facilities

Lodge/central building

Pets allowed in campsite

Secluded campsites
Campground Type
Length of Stay
Meetings & Conferences
Facility accommodates meetings for 30 or more

Meeting/convention facilities maximum capacity:

50
Mentioned In
Return to previous page