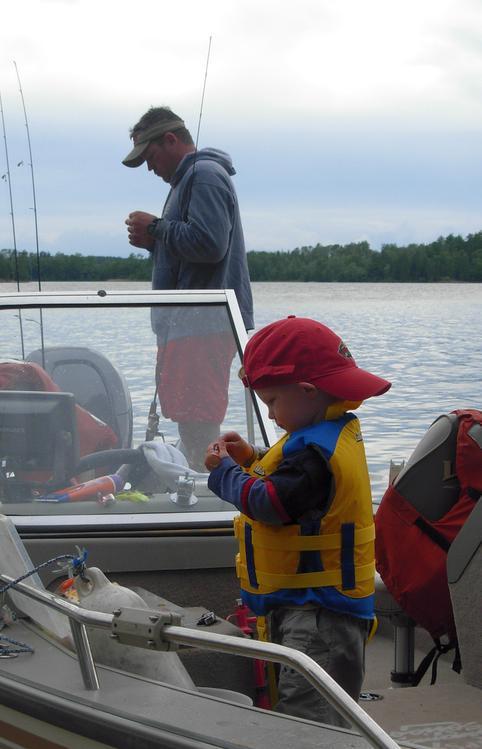 Located on the edge of Voyageurs National Park, Kabetogama entrance. 4.5 hours north of Mpls/St. Paul. 2 hours north of Duluth. Hwy 35 to Hwy 53 north toward International Falls, MN. 30 miles south of I-falls, turn at the GIANT WALLEYE.
Get Directions
About
Guided fishing trips, boat tours, and water taxi in Voyageurs National Park. USCG captain for 20 years fishing Lake Kabetogama, Namakan, and Ash River. We will pick you up at any of the resorts on "Kab", Ash River, or from your houseboat or campsite. I want to help do more than catch fish...my goal is that you catch fish after your trip with me, and have fun learning about the area. If you're a kayaker...we operated the largest kayaking rental company in the area for 10 years, so let me offer some insight to better paddling trips. I love the area, and would be happy simply talking to you if you have questions! Wade Watson "Kab Kid"
Stay and Fish packages. Small simple one room cabins, but cute, clean, and comfortable for an overnight or several days stay as you visit Lake Kabetogama and Voyageurs National Park. We are USCG certified boat captain, and have been offering guided fishing trips for 20 years! If fishing in not your thing...join me for a boat tour of Voyageurs National Park, our family history in the area dates back to 1916...we can show you around.
Rates
Your guide to the area's adventures, Fishing, Tours, Paddling, and more. Full day, 1/2 day, or shorter trips available. Licensed fishing guide for 20 years. I will pick you up at any of the neighboring resorts!
Tours to Kettle Falls, Rock Gardens
More Information
Seasonality
On-Site Recreation
Fishing boats available

Fishing guides available

Hiking trail

Hunting guides available

Lake/river access (boat ramp)
Indoor Lodging Amenities
Pets allowed in indoor unit(s)
Length of Stay
Daily rental available

Extended stay facility
Return to previous page