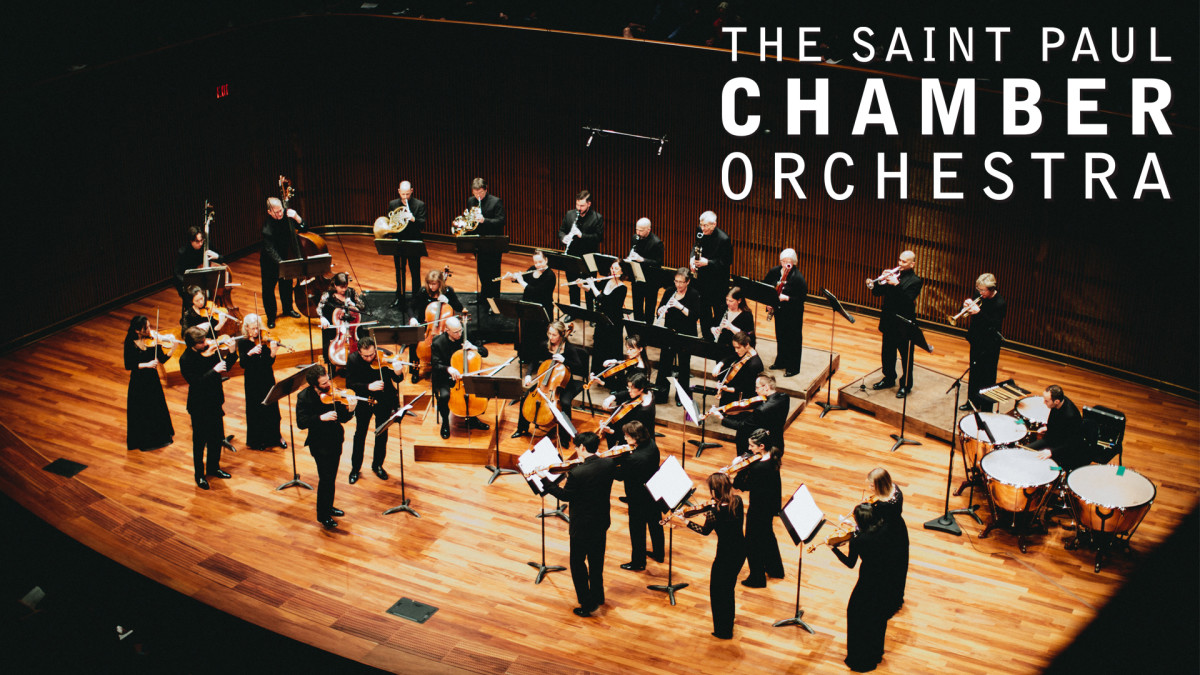 About
Renowned for its artistic excellence, remarkable versatility of musical styles and adventurous programming, The Saint Paul Chamber Orchestra is widely regarded as one of the finest chamber orchestras in the world. Now in its 59th season, the SPCO has recently undergone transformational change with the opening of its new home, the Ordway Concert Hall, the addition of a new generation of players, and significant changes in its artistic vision. The SPCO is primarily an unconducted ensemble that performs a broad range of repertoire from Baroque to new music and works in close collaboration with a diverse series of artistic partners, including British Baroque specialist Jonathan Cohen, American pianist Jeremy Denk, Swedish clarinetist Martin Fröst, Moldovan violinist Patricia Kopatchinskaja and Finnish violinist Pekka Kuusisto. Past Artistic Partners include Roberto Abbado, Pierre-Laurent Aimard, Joshua Bell, Douglas Boyd, Nicholas McGegan, Stephen Prutsman, Dawn Upshaw and Christian Zacharias.
The virtuoso musicians of the SPCO present more than 130 concerts and educational programs in the Twin Cities each year. The orchestra also reaches more than 250,000 listeners annually through its free online Concert Library, and has recently begun offering both live and on-demand videos of concerts that can be viewed anytime, anywhere, on any device, completely free of charge. The SPCO is regularly heard on public radio programs that reach more than 2 million listeners each week on over 300 stations. Additionally, the SPCO has released 67 recordings, commissioned 148 new works, and tours nationally and internationally, including performances in premier venues in Europe, Asia and South America.
The SPCO is nationally recognized for its commitment to broad community accessibility, its innovative audience outreach efforts, and its educational and family programming. Regular subscription series are performed in a variety of different venues across the Twin Cities metropolitan area each season, a unique commitment to geographic accessibility for a major orchestra. The SPCO offers the most affordable tickets of any major orchestra in the United States, with over 50 percent of tickets available for $15 or less, and has expanded accessibility even further by offering free tickets for children and students starting in the 2016.17 season as a part of the New Generation Initiative. The orchestra also offers an innovative ticket membership model in which members pay $7 per month to attend unlimited concerts. The SPCO's award-winning CONNECT education program reaches over 5,000 students and teachers annually in 12 Minneapolis and Saint Paul public schools, and its Target® Free Family Music program provides engaging and educational experiences for thousands of Twin Cities children and families each year. The SPCO's Liquid Music Series (named "Best of Classical" by The New York Times) develops innovative new projects with iconoclastic artists in unique presentation formats and invites adventurous audiences to discover the new and the fascinating within the flourishing landscape of contemporary chamber music.
Hours & Dates
Concerts as scheduled, most weekends, September through May
Rates
Single Ticket prices are $10-$50.
Kids and students are free.
More Information
Attraction Attributes
Accessible to people with disabilities

Can accommodate groups of 45 or more
Mentioned In
Return to previous page